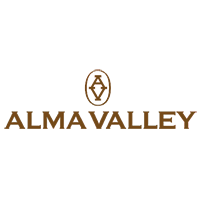 ALMA VALLEY WINERY, reality is here... by Home Of Vintage!

The idea of the Alma Valley winery project was born in the first decade of this century, when privatization of agricultural land began in Crimea. One of the most promising parcels for new vineyards was found in the Western-Foothills region of Crimea, in the valley of the Alma River. This valley was historically known as a good location for grape growing, as the land of the ancient Scythians, and as the site of the Battle of the Alma in 1854 — a key battle in the 1853-1856 Crimean War.

Climate
The climate of Western-Foothills Crimea can be characterized as mild Mediterranean, with moderate influence of the Black Sea and good ventilation by sea breezes. The average rainfall varies between 450-600 mm annually, depending upon the height above sea level. The average annual temperature is 10.4 °С. The winter temperature in the region can fall below -27 °С, so for protection the vines must be plowed under a layer of earth each winter.

Soil
The gentle slopes of the hills of Western Crimea are composed primarily of dark brown loam, while the river valleys have concentrations of richer fertile calcareous soils. The underlying rocks here are primarily limestone and a unique, especially dense sort of marl stone, known locally as "white-eyed clay".

History of the terroir
Wine was already an important part of the culture of the ancient Scythians. Wine amphorae, dated to the end of the 3rd century B.C.E., have been found in the excavation of a Scythian city near Vilino.

When a resurgence of Crimean wine-making took place in the second half of the 19th-century and beginning of the 20th, the valleys of Western Crimea were investigated in more detail. In the classic work of Alexander Negrul, Viticulture, published in 1955, the region is described as "suitable for quality wine-making" and particularly promising for the production of dry table wines.

Agricultural land in the Alma Valley was successfully used for grape-growing in the 20th century. Unfortunately, after the infamous anti-alcohol campaign of 1985 and the economic crisis of the beginning of the 1990's, the majority of the vineyards fell into disuse.

Renaissance of the Alma Valley
In 2005, a group of Swiss specialists — agronomists, engineers, and architects — were invited to the Alma Valley to investigate the potential for growing classic European wine grapes, and for planning and construction of a winery.
The first vines were planted on a parcel near Vilino in 2008, and an ultramodern winery began operation in 2013.